We've no idea what it will be like for business, but 2021 is shaping up to be an exciting year for tech.
Here are three of the main tech trends to watch out for.
Artificial intelligence is getting seriously smart
Although artificial intelligence (AI) research has been around since the 1950s, it's really taken off over recent years. With AI already having an impact on pretty much every industry you can think of, its influence is set to grow even more as we move through 2021. As companies need to process ever-growing amounts of data, and software offers fresh solutions to an ever-growing list of problems, the growth of AI is worth keeping an eye on in 2021.
The rise of robots
From flying security drones in your house (Amazon actually launched one of these recently) to human-sized robots screening temperature and ensuring face mask compliance, robots are starting to get some serious mainstream use. With the continued growth in internet-connected devices, it's surely only a matter of time until breakfast in bed will be delivered by a robot in your home, right? That would be nice. Will 2021 be the year of the robot?
3D printing
3D printing has been around for a few years now, but as the printers get smaller and more affordable, they are being used in more and more environments. The range of things that can be printed is set to explode. Can you imagine a day in the future when we can print computers? It may come sooner than you think. Wouldn't it be nice if we could one day print nutritious food on demand? It's a bit Star Trek, but you can see we're going down that route.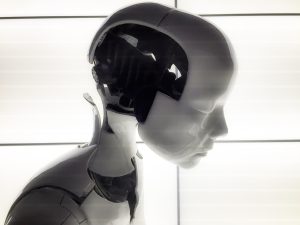 If you want to make sure your business takes advantage of the latest tech in 2021 (we're thinking better communication, collaboration and productivity, rather than robots), then contact us now.
Have any tips on tech trends in 2021? Leave a comment below, you may just help someone out!