What can we learn from 2020 and apply to our 2021 IT budget?
2020 was a pretty unique year. From lock downs and being forced to work from home, to evolving threats like ransomware and cyber-attacks, it's quite obvious that IT teams have been really busy.
When we look at the year ahead, and the challenges we are still facing, what do we feel are important factors to consider when planning your IT budget for 2021?
1. Your data is your life.
We've heard it 100 times, but not many businesses take it seriously. Threats to your data aren't limited to cyber criminals. Accidents happen, employees delete files, servers crash, hardware fails, etc.
For 2021, ensure that you invest in proper backup, disaster recovery and business continuity solutions for your business. This would include the software platforms and plans to assist in any potential disaster. Ensure that the data is secure and that it is tested for reliability as well.
2. Cloud is no longer the future, it's the present.
Did you know that 94% of enterprises are already using the cloud for business? When looking at these statistics, we know that most businesses should be utilising the cloud in some way. When looking at the average, around 30% of IT budget is planned for use on cloud tools and we are expecting that to increase for 2021 and the new Working From Home model.
For 2021, look at planning to use cloud more in your day-to-day activities. The productivity and accessibility benefits are worth the investment.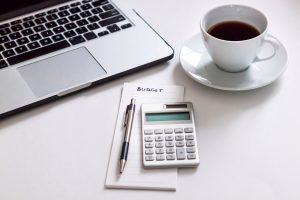 3. Mobility and Work From Home.
There are many factors to consider when looking at mobility, so we have broken it down for you.
– Hardware: Laptop sales have now exceeded desktops, and a shortage is expected throughout the year. If you are planning on upgrading and changing laptops, act quickly. Try to always include an SSD, at least 8GB of RAM and Windows 10 Pro in the devices you budget for as these make for a better overall experience for your users.
– Security: With the mobile workforce, there are major cybersecurity risks that need to be considered. Invest in proper endpoint protection, support, backups and filtering. All of these will protect your end users and give you peace of mind. The best approach is to speak to your IT provider and ask them to build the solution for you.
– Productivity: The workforce needs to be able to work effectively from anywhere. Invest in collaboration tools such as Microsoft Teams, as well as VoIP systems, allowing them to take their office phones anywhere. Something you could look at for this could be our Microsoft Teams Integration, as it allows you to use Teams to make and receive your normal office calls from any device.
We believe that having an understanding of your IT budget will assist you in making better decisions for your business in 2021. There is no shame in asking for help as some of these topics can be complicated. Reach out to your IT partner and ask them to help guide you to make the best decisions for your business.
Would you like some help with your IT budget for 2021? Contact us now and we will get in touch to assist you.
Have any tips on how to budget for IT in 2021? Leave a comment below, you may just help someone out!