Customer service can make or break your relationship with a business.
The other day, someone I know had to contact their bank about an issue with online banking. After navigating an automated menu that couldn't understand his voice, he sat on hold for more than 40 minutes, listening to the same song on repeat. There was the occasional silence that gave him the hope somebody was picking up, but then the same music resumed seconds later. He finally got through to a human, "hooray", who established that the automated menu had sent him to the wrong department. Back to the call queue, and an additional 30 minutes on hold (I'm not kidding), with the same music that was punctuated with moments of silence and false hope.
Somebody eventually picked up, and within two minutes told the guy that the only way to resolve his problem… would be to visit a local branch of the bank. I think his face had gone a funny purple colour by this point…
You
might be wondering why we're telling you about technical support?
Like banks, IT support providers have different approaches to customer service:
• How easy is it to get hold of your IT support provider?
• How quickly do they help you when problems come up?
• What are they doing proactively to stop things going wrong, so you don't have to contact them in the first place?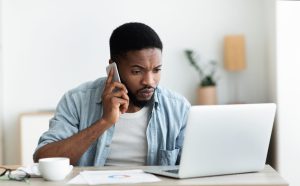 Time is money, especially if you're staring down the barrel of an IT problem.
We put our customers at the center of everything we do. Contact us now.
Have any tips or questions around technical support? Ask us a question, or leave a comment below, you may just help someone out!
Follow us on Facebook and LinkedIn!