You have desk phones on the tables in your office, but how do they work?
Every business has a business number (or at least they should have). These numbers will be linked through a Phone System of some sort. These phone systems range from traditional PSTN (old-school copper lines), to the more widely used VoIP PBX's. These systems will receive the incoming and outgoing calls and route them to the correct places. Your desk phone is connected to your phone system and your system does the rest! But does that mean you have to have a desk phone to use your phone system?
"Soft"-phones.
Because VoIP is internet based, a lot of the voice traffic is controlled through software and routed through the internet. With this in mind, developers created software based phones (better known as "softphones") that mimicked the connection of the desk phone to the phone system, allowing users the ability to install an app on their smartphones or laptops, and use their business number from any internet connection.
This type of setup was especially useful for large call centers, where having the ability to auto-dial numbers and report on each call became far more efficient.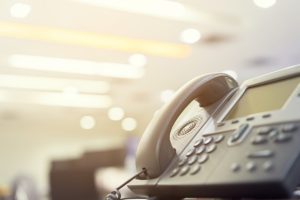 Where are we now?
Working From Home has become so prominent in business culture over the last few months that developers, IT and management personnel have all had to put their heads together to find the best solutions to various business practice changes, including taking and making calls.
There have been various solutions, including taking your desk phone home and connecting it to your internet connection, routing calls to cellphones, using softphones and combinations of these. For those on old copper lines, their phones have pretty much been completely abandoned during the various lockdown stages.
Where are we heading?
Microsoft Teams has had a massive increase in usage since the outbreak started, making collaboration simple and meetings possible. But there is more to this awesome tool. Because Microsoft made their developer API's available, we have been able to build full phone systems in Teams, as well as extend and integrate current one's.
What does that really mean for you? Well, if you have a phone system and provider that you are happy with, you can keep them and extend all calling functions directly into MS Teams. Make and receive business calls all from the same tool your business is using for all other collaborative work, on any device that you have Teams installed on.
Businesses that we have implemented this have seen increases in productivity and call quality.
If you'd like to see how this could improve your business, fill out the form here and we will contact you to help you out!
Have any advice on desk phones and phone systems? Leave a comment below, you may help someone out!