Biting your nails. Snacking on sweets and chocolates. Staying up for "just one more episode on Netflix" when you're already tired. All bad habits. And there are work ones too.
The worst is ploughing through emails without ever stopping to ask "hey, could this email be fake?"
It only takes one person clicking on one bad link in one email to initiate Cyber Attacks

And that's it, hackers get into your system. Yes, it's shocking – but it really can be that simple. Software can give you a level of protection. But ultimately your employees are your best line of defense against ransomware and other types of cyber-attacks.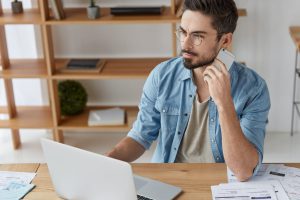 But only if you train them properly
As the boundary between home and work continues to blur, it's getting easier to neglect cyber security and slip into bad habits. Give the right training to the right staff at the right time. Cyber security training is crucial, and it can be fun!

If you're unsure about what to look out for, follow our SCAN approach and look out for the following types of Social Engineering! If you somehow opened that email thinking it was true, you can follow these steps to start solving the problem!
If you need training, an assessment, or simply some advise, then Contact us now!

Have any tips or questions around Cyber Attacks? Ask us a question, or leave a comment below, you may just help someone out!
Follow us on Facebook and LinkedIn!